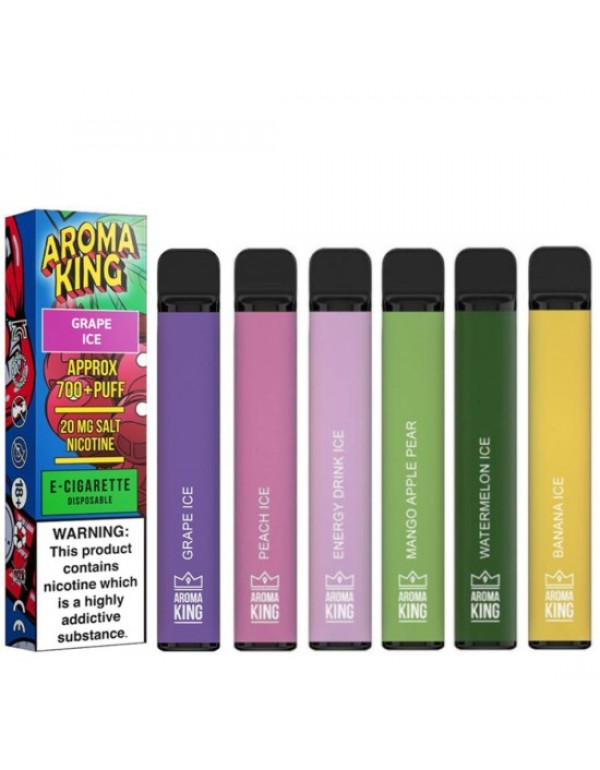 Aroma King Disposable Vape Kit 10mg
28 Flavours:Peach IceEnergy DrinkMango Apple PearBlueberry IceGreen AppleWatermelon IceBanana IceColaLychee IceCool MangoStrawberry IceGrape IceBlueberry PomegranatePink LemonadeMixed BerryStrawberry GuavaUnicorn ShakeIce SkittlesHawaiia PogColaMonsterCherry IceBlue Razz CherryBlue Sour RaspberryBlu..
28 Flavours:
Peach Ice
Energy Drink
Mango Apple Pear
Blueberry Ice
Green Apple
Watermelon Ice
Banana Ice
Cola
Lychee Ice
Cool Mango
Strawberry Ice
Grape Ice
Blueberry Pomegranate
Pink Lemonade
Mixed Berry
Strawberry Guava
Unicorn Shake
Ice Skittles
Hawaiia Pog
Cola
Monster
Cherry Ice
Blue Razz Cherry
Blue Sour Raspberry
Blueberry Bubblegum
Strawberry Ice Cream
Berry Peach
Grape Energy
With it's pre-filled 2ml nicotine e-juice capacity inside a simple, colourful and comfortable design, then the Aroma King Disposable Vape Device is an easy choice for a simple, effective vaping experience.
Powered by a 550mAh internal battery and lasting up to roughly 700 puffs, the Aroma King Disposable Vape Device will fulfil your vaping needs without the need to re-fill, recharge or replacing coils on a daily basis.
With it's draw activated system, a 50PG/50VG ratio and an in built specialised heating system, this vaping device is built for mouth to lung vaping.
Specifications:
1% (10mg) Nicotine Strength
E-juice Capacity: 2ml Pre-Filled
Battery: 550mAh (Built-In)
Puffs: Approximately 700 puffs
Draw Activated
Specialised Heating System
Ideal For Mouth to Lung Vaping
Compact & Light
Convenient & Stylish Design
Non-Refillable/Non-Rechargeable

Box Contains:
1x Aroma King Disposable Vape Pod

50%VG | 50%PG
THIS PRODUCT CONTAINS NICOTINE, WHICH IS A HIGHLY ADDICTIVE SUBSTANCE.
Nicotine strength explained:
Different nicotine strength displays: 
You may see eLiquid strengths written as mg, mg/mL, or in percentage form. Here is how they are displayed in each:
0mg = 0mg/mL = 0% Nicotine
     1.5mg =1.5mg/ml = 0.15% Nicotine
     3mg = 3mg/mL = 0.3% Nicotine
     6mg = 6mg/mL = 0.6% Nicotine
     12mg = 12mg/mL = 1.2% Nicotine
     18mg = 18mg/mL = 1.8% Nicotine
     20mg = 20mg/mL = 2.0% Nicotine     
Contains: Vegetable Glycerol, Propylene Glycol, Nicotine, Other Flavourings. Can contain traces of allergens.
Diacetyl, Acetoin and Acetyl Propionyl free. 
Diethylene glycol free.
Not for use by people under 18 years old, Non-smokers, Pregnant, Nursing, People with cardiovascular conditions, Diabetes, Asthma or people sensitive to content.
Adverse effects: Headache, Dizziness, Dryness in mouth, Nose, Throat.
Warning: Harmful if swallowed
Keep out of reach of children. Wash hands thoroughly after handling. IF SWALLOWED: immediately call a POISON CENTRE or doctor/physician. Rinse mouth. Dispose of container in accordance with local regulations. 
Dispose of contents/container to by handing over to the person authorised to dispose of waste. Store at 15-25'C
Can contain traces of allergens.