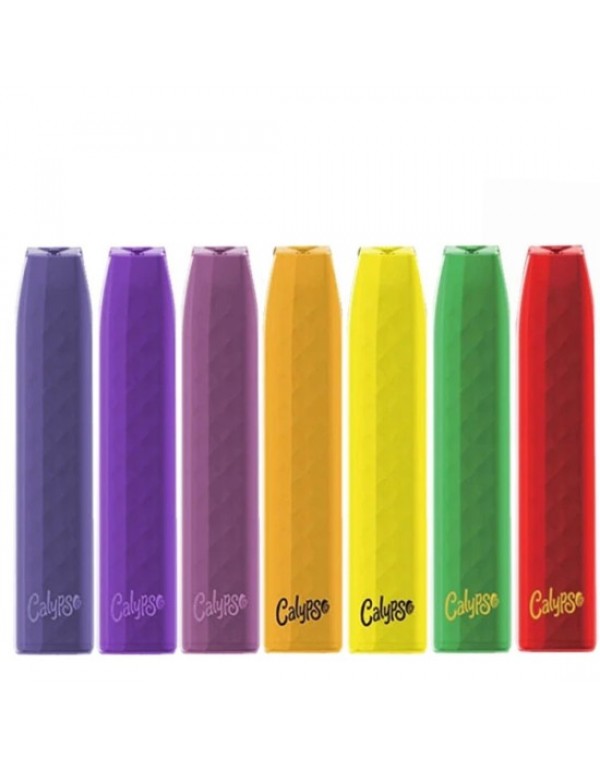 Caliypso Disposable Vape Kit 600 Puffs
10 Flavours:Pineapple Peach LemonadeTropical Mango LemonadeOcean Blue LemonadeGrapeberry LemonadeTriple Melon LemonadeSweet Cherry LemonadeSouthern Peach LemonadeStrawberry LemonadeIsland Wave LemonadeLimited Edition Energy DrinkCaliypso is a popular vape brand that is well known for its convenient ..
10 Flavours:
Pineapple Peach Lemonade
Tropical Mango Lemonade
Ocean Blue Lemonade
Grapeberry Lemonade
Triple Melon Lemonade
Sweet Cherry Lemonade
Southern Peach Lemonade
Strawberry Lemonade
Island Wave Lemonade
Limited Edition Energy Drink
Caliypso is a popular vape brand that is well known for its convenient disposable vape devices offered in a range of delightful fruity flavours. A great device for when you're on the go.
A disposable pod device you can rely on offering up to 600 puffs. Caliypso Bar Pods are sleek and stylish design means it can go where you go. The Caliypso Bar accommodates 2ml of salt Nicotine E-liquid with a nicotine level of 20mg. 
Features:
Stylish Design
2ml Capacity
up to 600 puffs
Draw Activated
450mAh Battery

Contents:
1x Caliypso Disposable Device

50%VG | 50%PG
THIS PRODUCT CONTAINS NICOTINE, WHICH IS A HIGHLY ADDICTIVE SUBSTANCE.
Nicotine strength explained:
Different nicotine strength displays: 
You may see eLiquid strengths written as mg, mg/mL, or in percentage form. Here is how they are displayed in each:
0mg = 0mg/mL = 0% Nicotine
     1.5mg =1.5mg/ml = 0.15% Nicotine
     3mg = 3mg/mL = 0.3% Nicotine
     6mg = 6mg/mL = 0.6% Nicotine
     12mg = 12mg/mL = 1.2% Nicotine
     18mg = 18mg/mL = 1.8% Nicotine
     20mg = 20mg/mL = 2.0% Nicotine     
Contains: Vegetable Glycerol, Propylene Glycol, Nicotine, Other Flavourings. Can contain traces of allergens.
Diacetyl, Acetoin and Acetyl Propionyl free. 
Diethylene glycol free.
Not for use by people under 18 years old, Non-smokers, Pregnant, Nursing, People with cardiovascular conditions, Diabetes, Asthma or people sensitive to content.
Adverse effects: Headache, Dizziness, Dryness in mouth, Nose, Throat.
Warning: Harmful if swallowed
Keep out of reach of children. Wash hands thoroughly after handling. IF SWALLOWED: immediately call a POISON CENTRE or doctor/physician. Rinse mouth. Dispose of container in accordance with local regulations. 
Dispose of contents/container to by handing over to the person authorised to dispose of waste. Store at 15-25'C
Can contain traces of allergens.