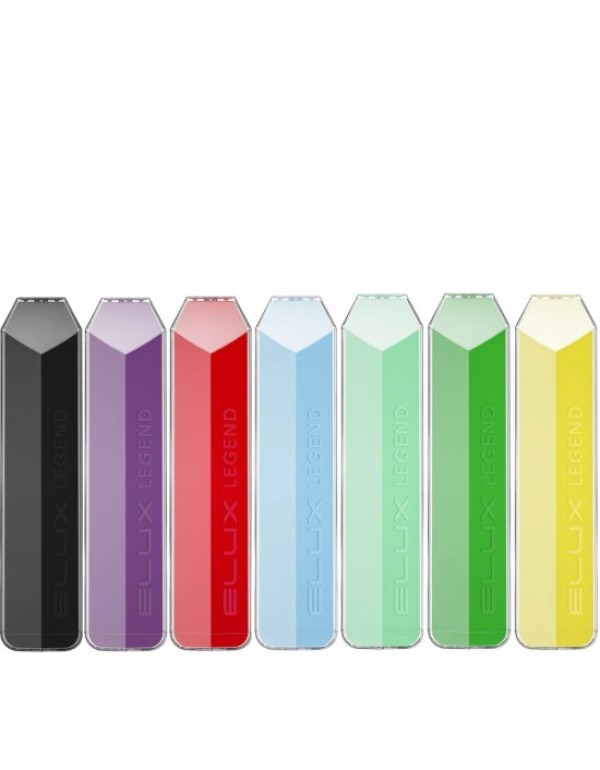 Elux Legend Solo 600 Disposable Vape Kit
22 Flavours:Blueberry PomegranateBlueberry RaspberryBlueberry Razz LemonadeGrape LycheeJungle JuicePassion Fruit Guava GrapefruitPink LemonadeRed Apple PeachStrawberry Bubblegum IceSweet PineappleSweet Raspberry LemonadeSweet StrawberryTiger BloodWatermelon IceBlackcurrant LemonadeFuji Melon LycheeS..
22 Flavours:
Blueberry Pomegranate
Blueberry Raspberry
Blueberry Razz Lemonade
Grape Lychee
Jungle Juice
Passion Fruit Guava Grapefruit
Pink Lemonade
Red Apple Peach
Strawberry Bubblegum Ice
Sweet Pineapple
Sweet Raspberry Lemonade
Sweet Strawberry
Tiger Blood
Watermelon Ice
Blackcurrant Lemonade
Fuji Melon Lychee
Sweet Cola Fizzy
Mr Blaze
Sweet Raspberry Lemonade Ice
Cotton Candy Ice
Apple Peach
Sweet Pineapple Ice
Looking for a compact, light and stylish looking vape for travels, nights out or as a back up device? Then the Elux Legend Solo Disposable Vape with it's striking diamond cut appearance may be what you're looking for.
With a pre-filled 2ml capacity of nicotine salt e-liquid in whatever flavour you choose from this range, they all have 20mg of nicotine strength ideal for those looking to cite their carvings without the need for smoking.
The built-in 550mAh battery ensures that any flavour of the Elux Legend Solo you'll choose from will last up to 600 puffs. After it's use, there's no need to re-fill or recharge it once depleted.
Specifications:
Made in the UK
Capacity: 2ml
20mg (2%) Nicotine Strength
Battery: 500mAh (Built-In)
Up To 600 Puffs
No Re-fill & Charging

THIS PRODUCT CONTAINS NICOTINE, WHICH IS A HIGHLY ADDICTIVE SUBSTANCE.
Nicotine strength explained:
Different nicotine strength displays: 
You may see eLiquid strengths written as mg, mg/mL, or in percentage form. Here is how they are displayed in each:
0mg = 0mg/mL = 0% Nicotine
     1.5mg =1.5mg/ml = 0.15% Nicotine
     3mg = 3mg/mL = 0.3% Nicotine
     6mg = 6mg/mL = 0.6% Nicotine
     12mg = 12mg/mL = 1.2% Nicotine
     18mg = 18mg/mL = 1.8% Nicotine
     20mg = 20mg/mL = 2.0% Nicotine     
Contains: Vegetable Glycerol, Propylene Glycol, Nicotine, Other Flavourings. Can contain traces of allergens.
Diacetyl, Acetoin and Acetyl Propionyl free. 
Diethylene glycol free.
Not for use by people under 18 years old, Non-smokers, Pregnant, Nursing, People with cardiovascular conditions, Diabetes, Asthma or people sensitive to content.
Adverse effects: Headache, Dizziness, Dryness in mouth, Nose, Throat.
Warning: Harmful if swallowed
Keep out of reach of children. Wash hands thoroughly after handling. IF SWALLOWED: immediately call a POISON CENTRE or doctor/physician. Rinse mouth. Dispose of container in accordance with local regulations. 
Dispose of contents/container to by handing over to the person authorised to dispose of waste. Store at 15-25'C
Can contain traces of allergens.