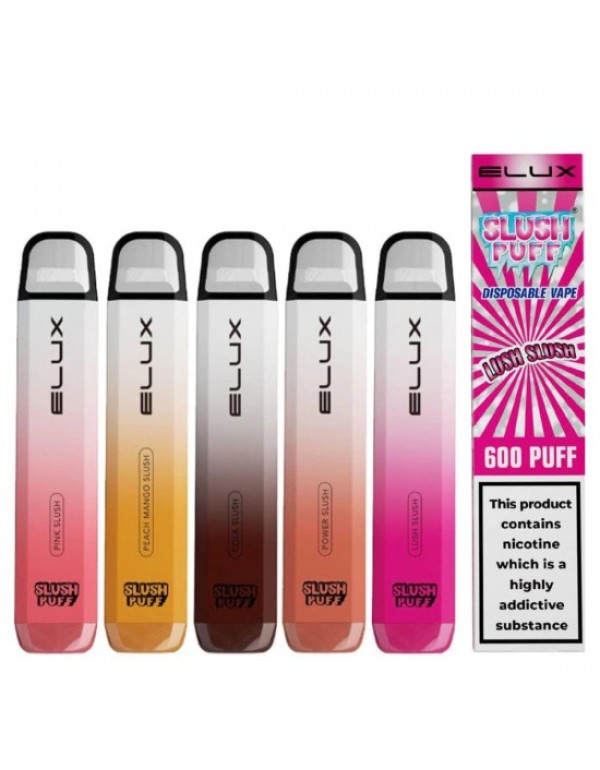 Elux Slush Puff Disposable Vape Kit
20 Flavours:Energy SlushMinty SlushCotton Candy SlushCola SlushGrape SlushWatermelon SlushPeach Mango SlushBlue SlushPink SlushMango SlushFrooty SlushBlue Bubble SlushBlue Sour RassPower SlushBlackcurrant SlushLush SlushFant SlushCherry SlushVimt SlushBlue Razz SlushAnother Excellent Addition to the..
20 Flavours:
Energy Slush
Minty Slush
Cotton Candy Slush
Cola Slush
Grape Slush
Watermelon Slush
Peach Mango Slush
Blue Slush
Pink Slush
Mango Slush
Frooty Slush
Blue Bubble Slush
Blue Sour Rass
Power Slush
Blackcurrant Slush
Lush Slush
Fant Slush
Cherry Slush
Vimt Slush
Blue Razz Slush
Another Excellent Addition to the Elux Range, Welcome to the Slush Puff Disposable Vape Pod.
This amazing little Disposable comes in an array of mouth watering flavours and colours. It has a sleek and compact design fitting nicely in the hand and pocket. Draw Activated for minimum fuss, the mouth piece is extra comfortable making the vaping experience of this little puff bar an absolute pleasure.
Draw Activated
Up to 600 Puffs
500 mAh Battery
2ml Nic Salt E-liquid
2% Nicotine
Led Puff Indicator

THIS PRODUCT CONTAINS NICOTINE, WHICH IS A HIGHLY ADDICTIVE SUBSTANCE.
Nicotine strength explained:
Different nicotine strength displays: 
You may see eLiquid strengths written as mg, mg/mL, or in percentage form. Here is how they are displayed in each:
0mg = 0mg/mL = 0% Nicotine
     1.5mg =1.5mg/ml = 0.15% Nicotine
     3mg = 3mg/mL = 0.3% Nicotine
     6mg = 6mg/mL = 0.6% Nicotine
     12mg = 12mg/mL = 1.2% Nicotine
     18mg = 18mg/mL = 1.8% Nicotine
     20mg = 20mg/mL = 2.0% Nicotine     
Contains: Vegetable Glycerol, Propylene Glycol, Nicotine, Other Flavourings. Can contain traces of allergens.
Diacetyl, Acetoin and Acetyl Propionyl free. 
Diethylene glycol free.
Not for use by people under 18 years old, Non-smokers, Pregnant, Nursing, People with cardiovascular conditions, Diabetes, Asthma or people sensitive to content.
Adverse effects: Headache, Dizziness, Dryness in mouth, Nose, Throat.
Warning: Harmful if swallowed
Keep out of reach of children. Wash hands thoroughly after handling. IF SWALLOWED: immediately call a POISON CENTRE or doctor/physician. Rinse mouth. Dispose of container in accordance with local regulations. 
Dispose of contents/container to by handing over to the person authorised to dispose of waste. Store at 15-25'C
Can contain traces of allergens.